Sailors on ships of the line about to be hit by a broadside would quietly intone grace. "For what we are about to receive, may the Lord make us truly grateful." And so it is with the wholesale reopening of schools on Monday.
This is particularly the case given that for the last four weeks there has been a significantly larger percentage of positive cases in the 5-9 age group in England, for both boys and girls. (1) A similar trend has been seen in Israel and some sharp localised outbreaks in Italy have been centred on schools.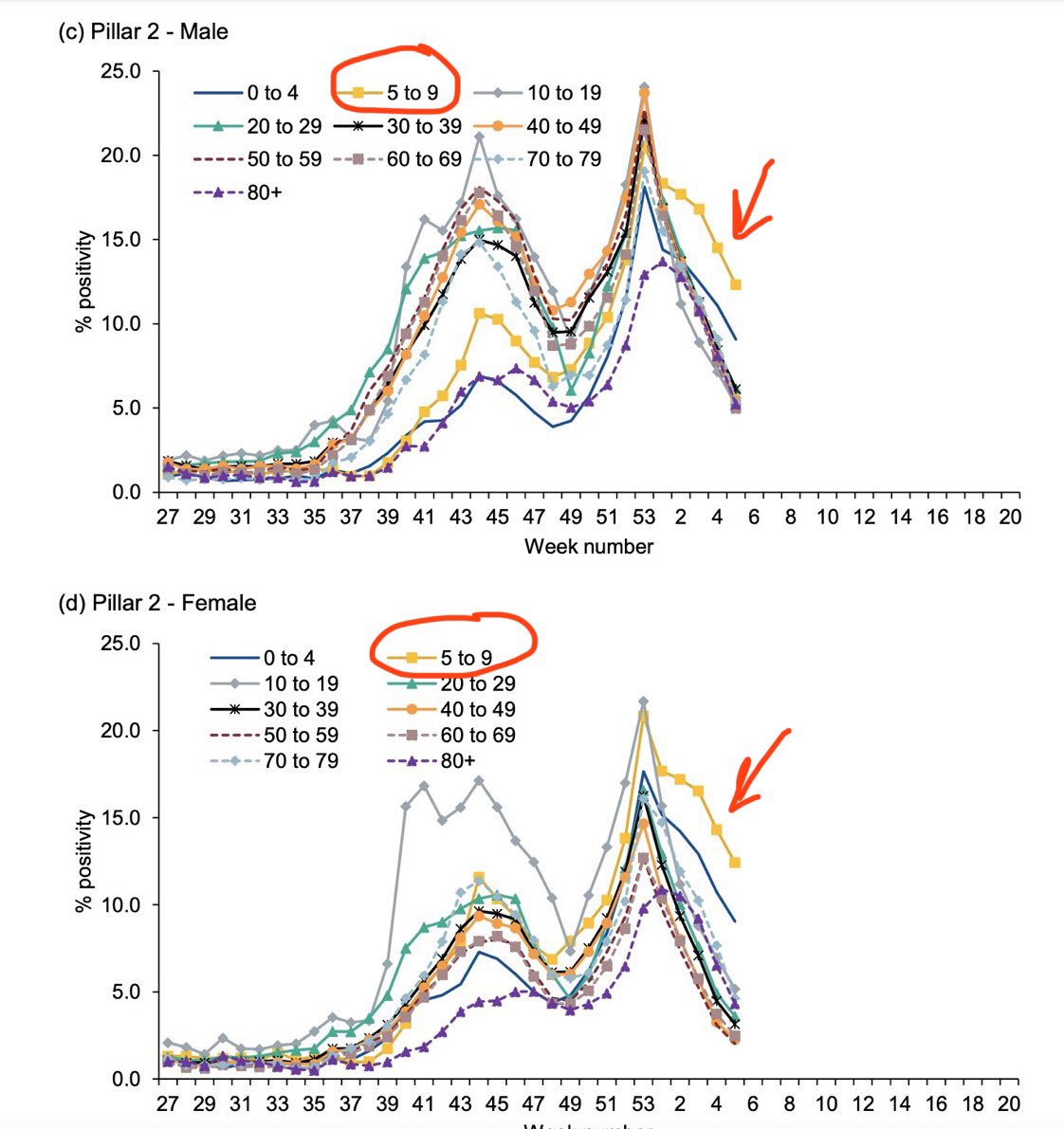 In this context, looking at what happened in practice the last time that schools were fully open will give us a guide to what is likely to happen.
In the Autumn term the Health And Safety Executive carried out spot checks and inspections on schools to make sure that COVID safety measures were being implemented effectively. As these measures "have not been substantially changed" since then, their findings are instructive. (2)
It should be stressed that none of this addresses the wider safety issues of whole school reopening – particularly the journeys in and out – which are only covered obliquely in the guidance – but will involve a sudden rush of millions of daily interactions; which are bound to boost the overall R rate. Nor does it cover the likely effect of encouraging a sense that "things are getting back to normal" as swarms of kids reappear in the streets in the mornings and afternoons – with a knock on effect of people beginning to relax and drop their guard.
HSE spot checks and inspections in primary and secondary schools from September to December 2020.
"HSE contacted 5000 schools in England and Wales to check they were following the relevant government guidelines. This followed similar spot checks carried out in August on schools in Scotland."
"Following the initial calls, HSE found that around 80% of schools had a good understanding of the guidance and what it means to be COVID-secure."
The HSE makes no judgement on how much safer schools could have been if the unions 10 point recovery plan had been taken up by the DFE (3) but the 80% figure here is a testament to the hard work and dedication of school managements and the serious input made by the Education unions, whose safety checklist was used by Reps all over the country to make sure that risk assessments and procedures were in place and schools made as safe as it was possible to do within the limitations of the investment the government was prepared to put in. Sometimes school Heads who had previously been institutionally hostile to their union groups found themselves working constructively with Reps because the union guidance was so sound and thorough. However, some did not. 80% is a good figure, but that still leaves one school in five with a poor grasp of safety measures which are a matter of life and death. With 24, 372 schools in England, extrapolating their sample and assuming all other factors remain equal, that would mean that roughly 4, 875 schools had a poor grasp of the guidance. One in five. That would be the sort of place where Heads tried to insist on physical parents evenings or open days taking place, or in person staff meetings, or people of the CEV list coming in to work, or Christmas performances that would presumably be protected by God.
"For those schools, HSE undertook over 1000 follow up site inspections to check the measures they had in place." While these schools responded positively and "nearly all …had implemented COVID-secure measures in accordance with the relevant government guidelines" by the end of term, obviously, this only covered the schools they had initially contacted; so potentially the remaining 3,875 slipped through the net.
Just under " 1% identified contraventions of health and safety requiring formal interventions and improvement." 1% of 24,372 schools is about 240. Not many, but more than enough.
If there is a similar pattern in the next three weeks up to Easter and beyond into the Summer term, the sort of concerns Inspectors had "included social distancing in staff rooms and kitchen/canteens, cleaning regimes, and ventilation in school buildings."
Ventilation was a particular issue, so the HSE has updated its guidance (4) which will be useful for anyone in a school where this has not been sorted.
Other problems included:
Generic risk assessments being used which sometimes lacked specific detail for the school.
Lack of effective systems for regular monitoring and review of risk assessments.
Fire doors being propped open to aid ventilation.
Inappropriate rooms being used for isolating suspected cases.
Arrangements for managing external visitors and/or contractors.
good ideas they noted included:
Promoting social distancing by issuing pupils with coloured lanyards to identify their bubble and to help avoid mixing between different groups.
Using brightly coloured floor markings in school playgrounds to encourage two metre social distancing between parents and pupils during drop-off and collection times.
One school used a year seven science project looking at handwashing and UV light as a means of promoting effective hand hygiene.
Producing video walkthroughs explaining COVID-secure arrangements for pupils and parents.
Use of classroom seating plans to help with self-isolation measures.
A click-and-collect app to purchase food from the canteen to reduce queues and avoid crowding.
Using video conferencing for staff meetings and phones in classrooms to speak to other staff to reduce face-to-face contact.
The HSE has guidance on being COVID-secure and information on spot checks and inspections is available on their website.
The role of unions in each workplace, making sure that these guidelines are upheld, has been essential in limiting the damage so far, and will be just as urgently needed in the next period, as the government once again skids over thin ice with its eyes shut and fingers crossed.
https://twitter.com/DrEricDing/status/1367448762025672704?s=08

2. All quotes from HSE Education and schools eBulletin: March 2021
3. https://neu.org.uk/recovery-plan